PPP specializes in the development and manufacturing of quality innovative home improvement products and accessories, such as our popular Flip-It® "fit-all" Tub Stopper.
Flip-It® Tub Stopper: The Amazing Fit-All Replacement Tub Stopper

This stopper contains a unique ball-shift toggle system which opens and closes the drain with a simple push of the toe or finger.

Will fit 90% of all tub drain openings - replaces all types of stopper assemblies
Simple to install - no tools required for installation - simply affix "o" rings and press into drain
One piece construction - made of top quality DELRIN or POM and ABS plastic, with a choice of Chrome Plated, Antique Brass, PVD Polished Brass and PVD Brushed Nickel.

Tub Stopper with 10 "0" Rings to ensure a perfect fit in various size drains.




Flip-It Shown Installed (below)

No Stooping or Bending


Press into drain
- and it stays there!


One piece construction replaces all types of stopper assemblies. Do away with troublesome trip lever parts and stoppers. Self contained unit, made of top quality delrin/POM and ABS plastic.

When installed - looks better than the original stopper. Made to be left in drain, yet easily removed for cleaning. Comes with 10 "O" Rings to ensure a perfect fit. Press into drain and it stays there!

Flip-It® Finish Options:

Chrome Plated Finish:
Traditional chrome plated finish available in three packaging options.

Antique Brass Finish:
Give your bathroom a touch of class with our antique brass finish available in three packaging options.

PVD Brush Nickel Finish:
Give your bathroom a touch of class with our antique brass finish available in three packaging options.

PVD Polish Brass Finish:
A modern look for your bathroom decor - our polished brass finish is available in three packaging options.




Simple to install - no tools needed. Simply press into drain to form a water tight seal. You'll never have to replace linkage, stoppers, buckets or springs again!

Unique toggle system - Flip left to close, flip right to open. Easy to use, with a simple push of your finger or your toe.

Fits over 90% of all tub drain openings.




Call for a retailer near you: 1-800-473-1803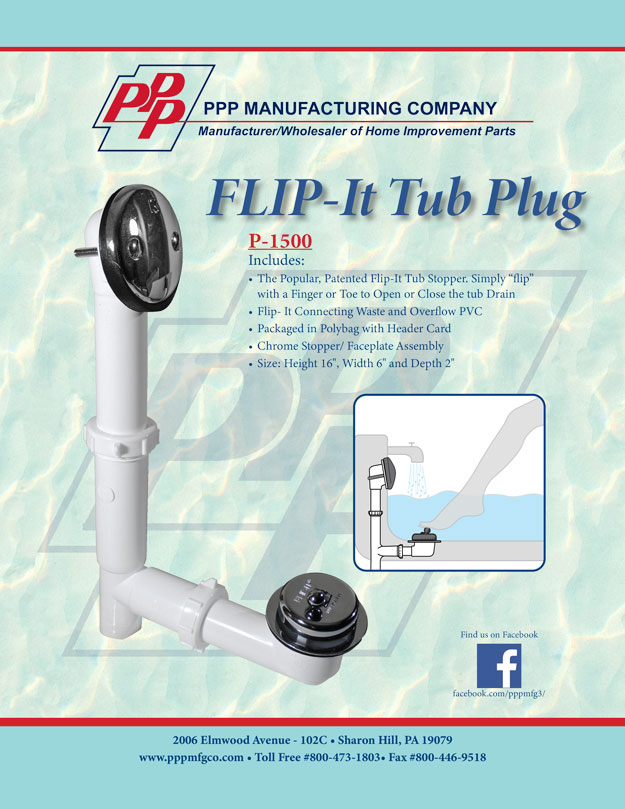 PPP Manufacturing Company Product Lines:
With excellent visual appeal and easy-to-install designs, PPP's products add great value to any home improvement project!
Our Customers:
Do-it-yourself Homeowners
Contractors
Plumbers
Home Improvement Stores
Retail Stores
Where to Buy:
Our unique home repair products can be found in many retail outlets across the United States.
For your convenience, we have listed some popular retail chains and outlets where you may purchase our products in your local area.
PPP Manufacturing Company provides plumbing and hardware products for home improvement! Easy enough for the "do-it-yourself" handyman, and selected by many professionals.
From our Flip-It tub stopper to our Charley-Bar security system, our products have been carefully designed with the following groups in mind: Contractors, Maintenance Personnel, DIYers and Re-Hab Specialists!
Whether you are a professional plumber, a handyman by trade or by hobby (a.k.a. do-it-yourself-er), a contractor, maintenance personnel or a company that supplies do-it yourself home improvement supplies, PPP Manufacturing products are the solution to your bathtub and other home repairs.
Ease of Installation:
PPP Manufacturing provides clear easy to follow installation instructions for our product lines right on the packages.
PPP Manufacturing designs all home improvement and repair parts with the consumer in mind; keeping installation simple and making your life easier!
Attention Retailers:
see our Merchandising Solutions area for quantity purchasing and display information details.
1-800-473-1803
Testimonials
Worth many times the actual cost! 5 Stars
I would have gladly paid several times what this little gadget costs because it does the job perfectly. It's a steal for this price! We bought a 40 year old home and the stopper mechanism in the master bath was corroded out so there was just a gaping hole. We thought the only option was one of those big ugly leaky rubber stoppers until we came across this. We started out with the largest set of o-rings (you get 5 different sizes to find the right fit for your tub) and found those to be perfect so we literally spent all of 3 minutes installing this. It seemed to seal well, but we tested it by filling the tub at about 8 PM and leaving it overnight. The next morning...viola! A tub full of water! An the lever is so simple to use, my 3 year old has no problem with it. If you're debating this purchase and you're currently using the ugly rubber stopper...BUY THIS!!
Best bathtub stopper 5 Stars
The Flip bathtub stopper is as advertised. My husband who had great trouble installing the previous stopper did not appreciate my buying this one. He installed 2 in less than half an hour and both work perfectly, which the previous 2 did not.
Tub Stopper 4 Stars
Our bathtub is about 10 years old and the mounting point for the old stopper corroded off, but the room below tub has a finished plaster ceiling, so this stopper was a life saver and looks much better than just using a rubber stopper. This stopper came with a lot of different sized rubber o-ring gaskets, so there is a good tight fit. When I fitted it into the drain, I used a little Vaseline as I wanted it to be tight. I am very happy with this product and got it for a good price.
Great product!!! 5 Stars
I bought one from a catalog and loved it. My husband took it out to clean the drain and lost a part. The catalog I bought it from didn't carry it any longer, so I was thrilled to find it was still available. It is great when you have small children who have a tendency to put small item down the drain, and unlike traditional stoppers, this one doesn't get lost in the bath toys.
Perfect Solution! 5 Stars
I went to my local home improvement store on a weekend looking for a decent tub stopper for my older bathroom fixtures and there just wasnít anything. All you can find in store are those ugly yellow/white stoppers that often donít fit right, are easily knocked out of place, mold easily and donít seal properly. Every time I give my kids a bath, I end up having to refill the bathtub three or four time due to the crummy replacement stoppers we used to have. Standing in the home improvement store, I asked the employee why they donít just make something you can press into the drain with a pop-up button or something. Seemed like a pretty easy thing to me. He said he didnít know of anything like that. So I came home to GoogleÖ and found this beauty. I just canít say enough good things about it. It looks fantastic, stays put, installs in a snap, produces a water tight seal when closed and drains quickly when opened. It just doesnít get any better than this. I would have paid four times as much for this and it would have been worth every penny to me!
Perfect Replacement 5 Stars
This tub stopper was very easy to install (It had multiple adjustments to fit any tub). It is the perfect replacement. Highly recommended!
Wonderful Tub Stopper! 5 Stars
This is the greatest tub stopper there is. I canít believe this product didnít come out sooner. I was afraid it wouldnít fit properly, but in the package they send you different size rubber O-Rings to make sure you DO find the right fit for your drain. Itís like it is custom made! I will certainly be buying more and telling all my friends about this ďFlip-It Tub StopperĒ.
When installed, Flip-It® looks very attractive
| | | | |
| --- | --- | --- | --- |
| Chrome Plated | Antique Brass | PVD Brushed Nickel | PVD Polish Brass |
| | | | |
* Flip-It® and its product design are registered trademarks of PPP Manufacturing Company. All images and content on this website are the property of PPP Manufacturing and may not be used without permission from PPP Manufacturing.