Flip-It Jr.® Replacement Lavatory Sink Stopper with Antique Brass Finish
Simple to install - no tools needed. Unique ball shift toggle system - Flip left to close, flip right to open.
Eliminates annoying pop-up stoppers which seldom hold water. Flip-It Jr Antique Brass drain cover and sink stopper can be installed by anyone in just about any bathroom sink.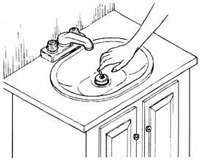 For the do it yourselfer looking for plumbing supplies for their sink drain or for plumbers and retail home improvement stores wanting to reduce their inventory. This great universal sink drain product fits sink holes: 1-3/16" - 1-3/8" of most major manufacturers and comes in a few finishes to match just about any bath room decor.
Do It Yourself Plumbing Repair
If your bathroom sink does not hold water when it is supposed to or you have just been using an ugly plastic sink stopper instead of replacing your pop up stopper the Flip It Jr. is the perfect solution. It looks great and is easy to both install and use.
Flip it sink stoppers will form a tight seal using our unique toggle ball system and are available in many plumbing supplies stores or online.
Plumbing Supplies for Plumbers: Brass Drain Covers
With all the different plumbing manufacturers, replacing a pop-up stopper in a bathroom sink will often require more parts than can be kept on hand by a plumber in their van or even in their office. By stocking only a few Flip-It Jr bathroom sink drain stoppers plumbers can be prepared to simply chose the right finish and right size O-ring to fit your clients sink and move on to the more complex and more profitable plumbing repairs.
Available in: Polish Chrome, Polish Brass, and Antique Brass finishes. Flip-It Jr® fits sink holes: 1-3/16" - 1-3/8"