Other Products Installation
---
CHARLEY-BAR SAFETY LOCK Installation
Important: "Charley Bar" is meant to be used in addition to patio door lock. For doors with sliding panel on the inside and stationary panel on the outside IMPORTANT!: Read all instructions before beginning installation!
Slide door to closed position and lock
Remove Black Plastic Cap (A) from end of Bar.
Place "Charley-Bar" Hinge Bracket (B) against side of frame with clamp up and with aluminum tubing horizontal. Mark off tube to proper length and saw off 1/8" shorter to allow for black plastic cap (A) to be replaced. If cut too short, bar will be ineffective.
Hold hinge bracket (B) to frame, making sure that hinge bracket is centered and low enough so that the bar can be swung up into upright storing position. (See Figure 1)
Now drill 2 holes using 1/8" drill and secure hinge bracket (B) to frame with #8 x1/2" sheet metal screws furnished. (See Figure 2)
After hinge bracket (B) is securely in place, position black plastic socket bracket (C) so that bar will be level when in locked position. (See Figure 3). Drill two 1/8" holes and secure with #8 x 1/2" sheet metal screws furnished. Be careful NOT to drill too deep, so drill bit will not hit glass.
When "CHARLEY BAR" is properly installed you should not be able to move sliding panel.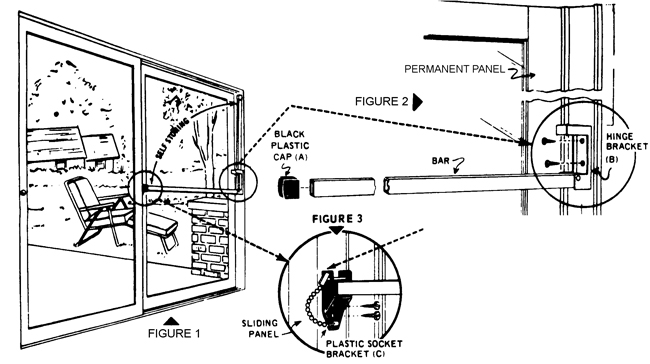 ---
AUTOMATIC PATIO SCREEN DOOR CLOSER Installation
Tools Required:
Screw Driver, Level Drill, 1/16" & 5/16" Drill Bit
Make sure patio screen door is adjusted and operating smoothly and clean out door track before starting installation.
Center the closer on the outside top rail of the screen with the hook end of the closer facing the door jamb where the handle latches. Make sure that the closer is level. Use a pencil to mark the hole mounting-position on the outside of the top rail.
Remove the door closer and drill 1/16" pilot hole for mounting screws.
Reposition the door closer on the top rail with the hook on the handle latch side. Attach the closer to the top rail with the four (4) screws provided.
Drill a 1/16" starter hole on the wood door jamb stile so that it lines up with the hook on the automatic closer, as shown in Figure 1a. Screw the eye (provided) into the jamb and place the hook over the eye to secure. An alternate method is to drill a 5/16" hole, centered, as shown in Figure 1b. Close the screen door and insert the hook into the drilled hole.
Adjust the tension by turning the knurled pin. To lessen the tension, turn counterclockwise and to increase the tension, turn clockwise, as shown in Figure 1c.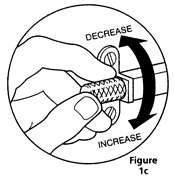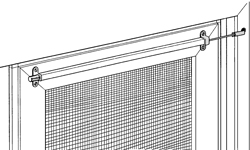 Call for a retailer near you: 1-800-473-1803
PPP Manufacturing Company. All Rights Reserved.